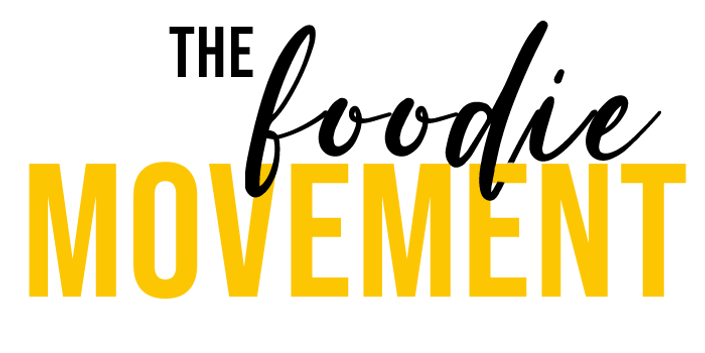 Profitable Productivity for Food Bloggers
A proven system to get you more consistency and more revenue without the overwhelm.
Yes! I NEED this NOW!
You're in good company if...
You're a food blogger wanting to level up in your expertise and content, but don't even have time for what you're doing now.
You're starting to gain momentum in traffic and sponsored work, and forgetting steps or feeling stressed out by all that needs to be done.

You've tried other methods and courses, but the fairy-tale of having a studio and a team just didn't line up with reality.

Right now, your team consists of you, yourself... and sometimes, maybe a bit of help.

You're frustrated with bills and a busy schedule that makes you wonder if you'll ever be consistent with content.
You're managing multiple blogs or businesses that you love, and dream at night of finding a system that can pull it all together with ease.
You have a steady stream of clients and your own blog ends up on the back-burner.

You're done with loosing your sanity and ready to find your passion again.
You're a blogger and a mom - enough said.
The struggle is real...
You're feeling a lack of balance.
You're determined and motivated to press forward but suffer from shiny object syndrome.
You're stressed from not having time to do something or thinking you're forgetting a step.
You invest in a baby sitter or get the time and then blank on what you should be working on.
You go days without doing anything because it all seems overwhelming and then you feel upset, depressed, or resentful because you're not working towards your goals.
There are multiple faces and facets to your blog and you aren't sure how to balance them.
You desire to give your blog attention and watch it grow, but have no idea what area to focus your efforts everyday.
You feel defeated at anything beyond your morning cup of coffee because there are so many things to do to make your dream come true.
This started as a passion and has become overwhelming. Let's get your calm back by...
Having a system in place to know exactly what you have the time and brain space for.
Having a set of standard operating procedures laid out in detail so you can hire a VA with confidence and ease.
Being able to batch and create consistent content effortlessly that attracts your ideal audience.
Bringing your blog to the next income level by working smarter, not harder.
Mapping out your yearly, quarterly, and short-term goals paired with effective daily to-dos that leave you feeling fulfilled and joyful.
Following and completing detailed checklists that are designed to scale and prepare you for the next step.
Planning that trip to Tahiti with your spouse, or family vacation you've been wanting to take - because the dough is about to roll in!
Hey there, I'm Katie!
Wondering why this page seems like the last text message to your spouse or closest friend? Truth is, it's because I've typed every single one to my husband.
I'm a mom of four kids all under the age of 6. We have a running joke that I have a business for each of them, and likely two just to give them options, by the time they're 18.
Like you I have a passion for food, photography, and blogging - and this crazy notion that I could financially support my family doing them! I'm sure I don't have to tell you, but doing all those things as well as household chores, feeding my own soul, and getting actual sleep at night... it's just dang hard y'all!
I was ready to quit. I reached a point that I felt so burnt out by all the ideas, lack of consistency, lack of finances, lack of ability, that I was ready to give it all up and let me family see it. But in the moment of desperation comes our greatest victories.
I was determined and promised myself I wouldn't quit. I would find a way to make it work - to make it all work. I wasn't going to forgo my family for my career, and I wasn't going to submit myself to the stigma of being just a stay at home mom.
That's when I opened up my arsenal. As a military veteran of the United States Coast Guard, I served upon two brand-new ships (and multiple other units), that desperately needed accountability, workflows, and streamlined systems. It was my job to create those and keep the departments of the boat accountable to them to ensure we could operate quickly, safely, and efficiently when needing to do things like save people's lives and bust drug runners - no big deal.
That's when I realized I was in a war of my own. The knock-down, drag-out fight of passion versus fatigue and disappointment. It didn't matter whether I was out numbered....
I was determined to win this time and never look back.
So I reviewed free systems like Google Docs and Trello to cut corners where I could financially and reinvented my dream into a reality with rock-solid, life-changing workflows, systems, and habits that could evolve over time to exponentially increase my profits, customer service experience, and my time with my family.
Now I wake up every day with a game plan. I go to bed at a reasonable hour. I'm constantly blowing past the norms of productivity and dedication for quality in my work. And best of all I'm a better mother to my children for following my dream successfully and not loosing my sanity towards them in the process.
I could have kept this secret sauce all to myself, but I designed this course for you. I have a deep rooted passion for women and especially moms that are tired of filling everyone else's cup and leaving theirs empty. The feelings of being burnt out and the thoughts of "I'm never gonna..." or "That level of success just isn't for me..." and "I can't do it all..." truly break my heart. You can do whatever you set your mind to in the right season when you plan for it. And I'm going to be here to help you do it.

Introducing Profitable Productivity for Food Bloggers
These next five modules are about to change your life in the way your do business by giving you more results with less effort - and here's how...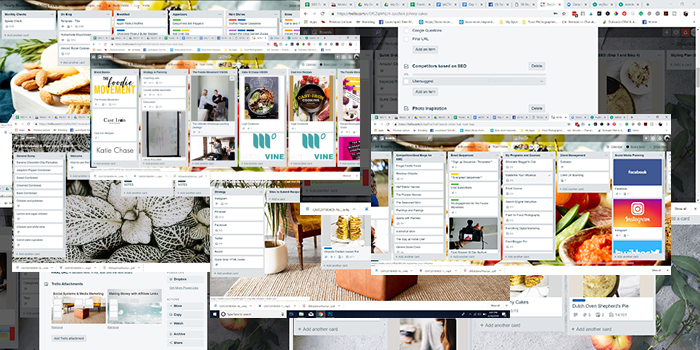 Module 1: Laying the Foundation
"The ability to simplify means to eliminate the unnecessary so that the necessary may speak."
― Hans Hoffman
In order to see the most success in this system and it's methods, we need to spend a quick and easy minute laying the foundation so you feel comfortable and excited about the tools we will be using in this course.
You'll get to see just how strong and mighty these simple tools can be and the huge impact they can have on your business when exercised properly.
We're not going to overwhelm you with new systems, we're going to dive into the ones you're likely already using and show you how to maximize your efforts with them.
Get ready to be amazed at how much you can do.

Module 2: Setting and Organizing Goals
"By failing to prepare, you are preparing to fail."
― Benjamin Franklin
In order to know what the priorities are for today, we have to know the lifestyle we want to be living tomorrow. The best way to plan out the most actionable steps with the highest conversion rate of success is by setting and organizing your short term and long term goals.
This module focuses on, you guessed it, preparation and goals.
There are steps we need to take to insure our blogs and businesses are built with the future in mind. No flimsy support structures here. We're taking the time to determine, long haul, what our our blog is going to look like from beginning to end so we can anticipate hard turns, bad weather, the birth of new ideas, and have the space to see them all through.
In this module we're qualifying our goals into a step by step action plan.

Module 3: Planning, Time Management, & Batching
"A goal without a plan is just a wish."
― Antoine de Saint-Exupéry
This module focuses on the detailed planning to achieve your goals from the previous module, how to manage your time to yield the highest of results, and batching similar areas of work to complete more at once with less work for your brain.
Preparing and setting your mind on the goal or the ending does no good if you leave out the action plan to achieve them.
In this section of the course we will be planning products, blog post topics, the hiring of additional team members, and how to spend your time daily, weekly, monthly, and annually.
By the end of this module you have detailed brand vision with the route clearly mapped out so you know exactly what to do every day.

Module 4: The Profitable Productivity System
"As practice makes perfect, so does productivity produce profits."
-Katie Chase
This module focuses on the execution of my specific practices and workflows.
At the root of every successful business woman is the inherent desire and ability to get. sh!+. done. Moms especially, know how to strike a balance between work and home life even when such a thing doesn't exist. In this module we're taking your ability to get things done, and giving you a much simpler way of doing it.
By the end of this section you will know that your daily tasks from recipe development, photography, SEO, blog posting, social media management, and affiliate management are all working together harmoniously and victoriously towards your end goal.

From concept conception to publishing, to promoting, to updating, this section will have your year planned well in advanced.

Module 5: Real Life Walk-throughs
"Seeing is believing, but sometimes the most real things in the world are the things we can't see."
-Conductor from The Polar Express
See it in action! This is the last module in the course and the one where I take you through actual videos of me applying all we've learned here into real life scenarios so you can complete the same methods with ease and confidence.
The more we can see the system in action, the easier it will be to implement the strategies for your business and blog.
This is the section I will continue to update with lives from the exclusive Facebook group, as well as new examples. And lucky you, you get lifetime access to them without scrolling the feed!
A behind the scenes look into my daily flow of using the system with opportunities for you to ask questions and follow along.

LIMITED TIME BONUS: 60-Minute 1:1 Consult ($297 value)
In purchasing at pre-launch price, you'll also get a 1:1 60-minute consult call via zoom to be used within the first 3 months, in order to help you implement changes, strategize your content and growth plans, and move your blog forward!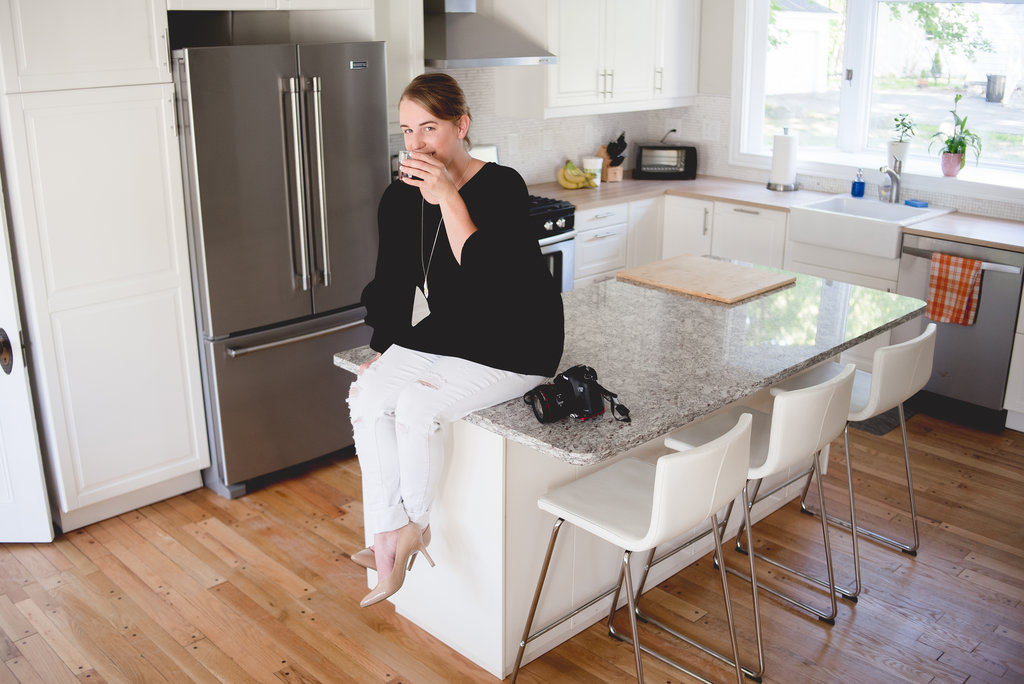 Still not sure? Let me ask you a question...
If the only thing that happened was
You got an hour back in your day.
You got to sleep in later.
You weren't filled with anxiety and panic about all the things you had to do that day.
You were able to go to bed at the same time as your spouse.
You could sign your kids up for school sports without the worry of "do we have time for this".
You were able to take your time meditating, working out, and practicing self-care when that time was typically taken over by answering emails frantically.
Enjoy a hot cup of coffee start to finish.
You gained an expert accountability partner.
You felt confident in the direction of your business.
You connect with other like-minded bloggers in a mastermind style setting that leads to collaboration and life-long friendships.
You had daily directions to follow habitually so you could focus your vision on your future endeavors.
You even 10% happier - and that's being restrained.
What would that be worth it to you?
Frequently Asked Questions
When does the course start and finish?
The course starts now and never ends! It is a completely self-paced online course - you decide when you start and when you finish. After you've purchased your login information will be emailed to you.
How long do I have access to the course?
How does lifetime access sound? After enrolling, you have unlimited access to this course for as long as you like - across any and all devices you own.
What is the refund policy?
We would never want you to be unhappy! If you can show that you tried this system, did the work, and it still didn't work for you, we would be happy to give you a refund within the first 30 days.
Can I become an affiliate of the course?
We have an amazing affiliate program with the course for our students. Students must complete the course in entirety and then fill out an application with a phone or skype interview.
What if there is something I don't understand?
We have an amazing, supportive, responsive, and EXCLUSIVE facebook group for members. You'll also have my email address to email me any time.
What if I need 1:1 help?
I am happy to assist you in any way that you need. You will be able to purchase additional 60-minute consult sessions with voxer access to me at a discount as a member of the course.
What can I expect for an ROI?
While we can't make a guarantee because every business is different, what you can expect if you use this system is it will provide you with: more personal time, more time to pitch brands, better quality of content to increase traffic across the platforms, ability to take on more clients in less time, and so much more. The timeline of your return will be dependant on how quickly and thoroughly you put these trainings into practice.
I'm not a food blogger - will this system work for me?
The short answer is YES! While I am primarily a food blogger and thus know what food bloggers are looking for, I am an educator as well. We have differing bloggers in the course from DIY, to Health and Wellness, to Lifestyle bloggers. The examples may be more geared towards food bloggers, but the process and flow remain the same. We can also help you refine and specialize your workflow in the group or in a 1:1 call.